1. Qualification for Application
a. Applicants must be non-chines citizens and healthy.
b. Applicants must be over 16 years old. Applicants under 18 must provide guardian guarantee and a notarial certificate issued by the notarial office.
c. Applicants should have a high school diploma or above.
d. Applicants who would like to apply for Chinese taught program should have attained HSK4 certificate or above.
2. Application materials
a. NCUT overseas students application form
b. Copy of high school certificate
c. Copy of high school transcripts
d. Copy of HSK certificate
e. Copy of passport
3. Bachelor Degree Programs (length of scholing: 4 years)
Schools

Bachelor Degree Programs

Information School

Computer Science and Technology

Information Security

Digital Media Technology

Electronic information Engineering

Communication Engineering

Microelectronics Science and Engineering

Data Science and Big Data

School of Electrical and Control Engineering

Electric Engineering and Automation

Automation

New Energy Science and Engineering

Traffic Equipment and Control Engineering

School of Mechanical and Materials Engineering

Mechanic Design Manufacture and Automation

Mechatronic Engineering

Material Science and Engineering

Industrial Design.

Intelligent Construction

School of Architecture & Art

Urban-rural planning(length of scholing: 5 years)

Architecture(length of scholing: 5 years)

Landscape Architecture

Visual Communication Design

Environmental Design

School of Civil Engineering

Civil engineering

Building Environment and Energy Application Engineering

Urban Underground Space Engineering

Project Management

School of Economics and Management

Business Administration

International Economics and Trade

Accounting

Economics and Finance

School of Humanities and Law

Law

Intellectual Property

Advertising

Chinese Language and Literature

Japanese

English

School of Sciences

Statistics

Information and Computing Science
4. English-taught Majors
-Architecture
-International Economics and Trade
-Electronic Information Engineering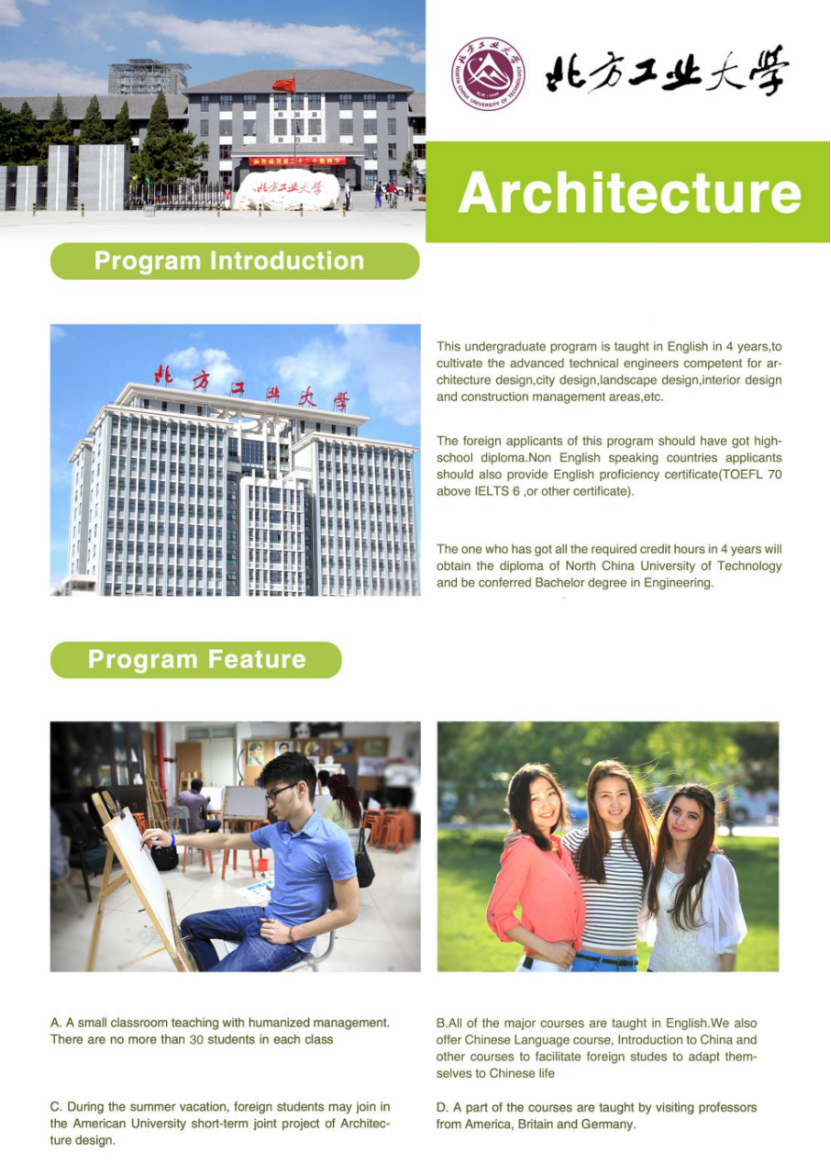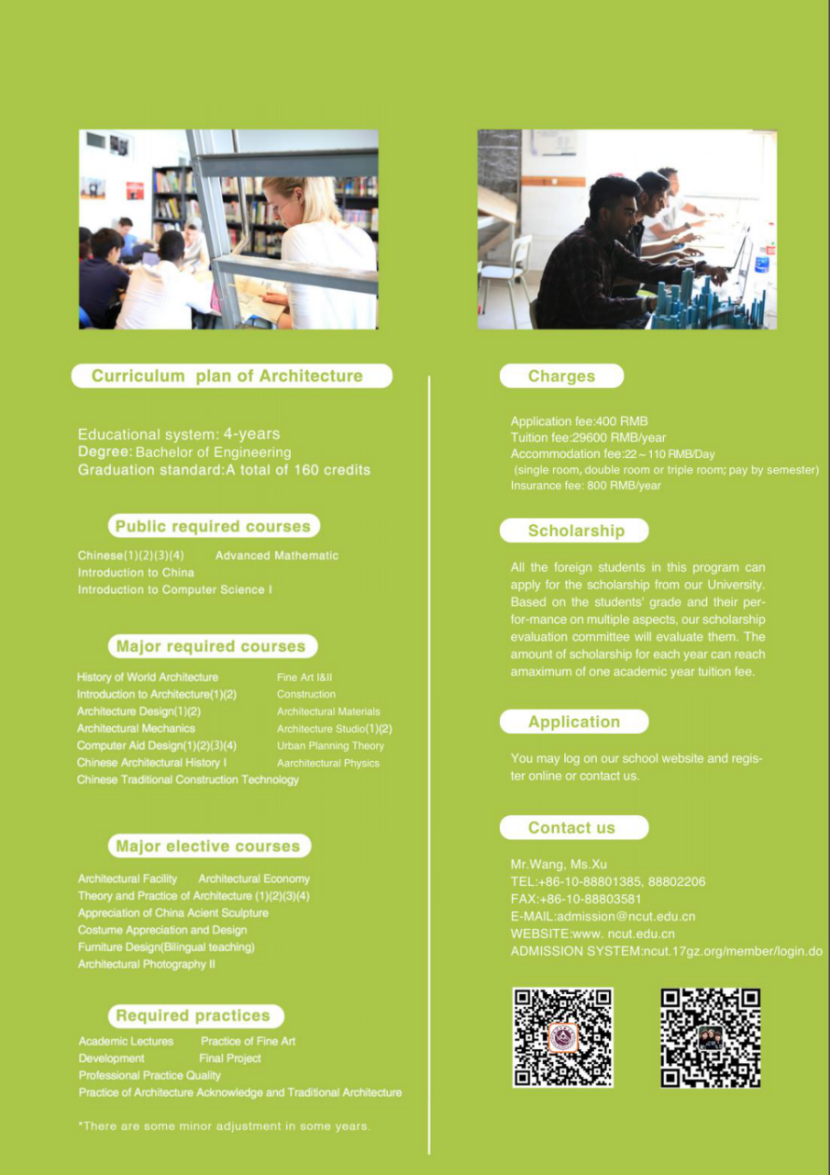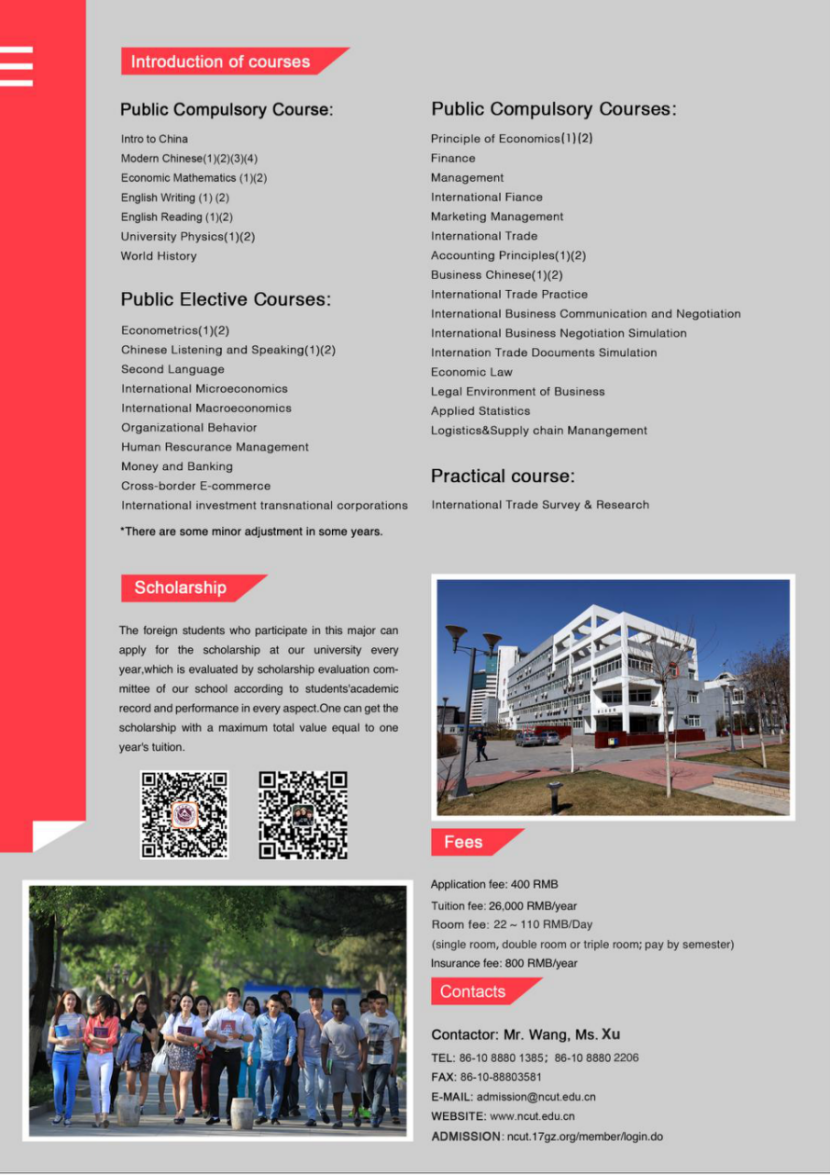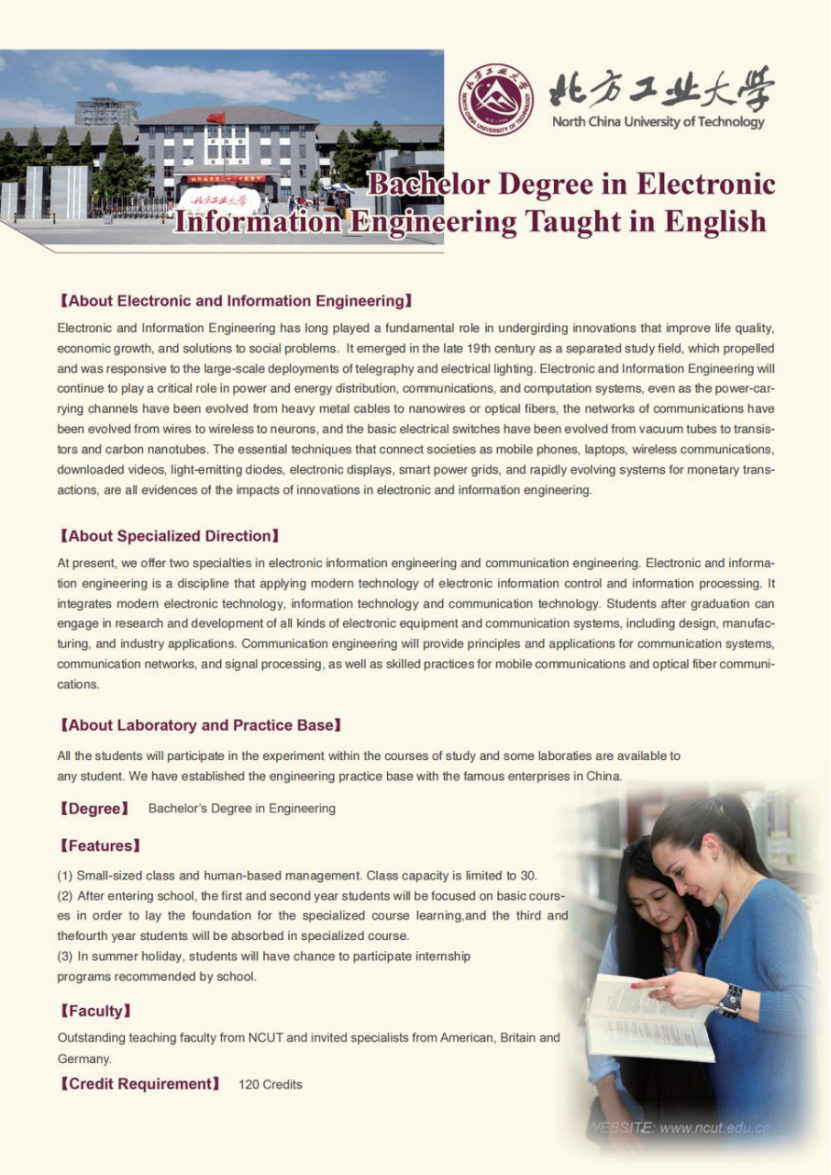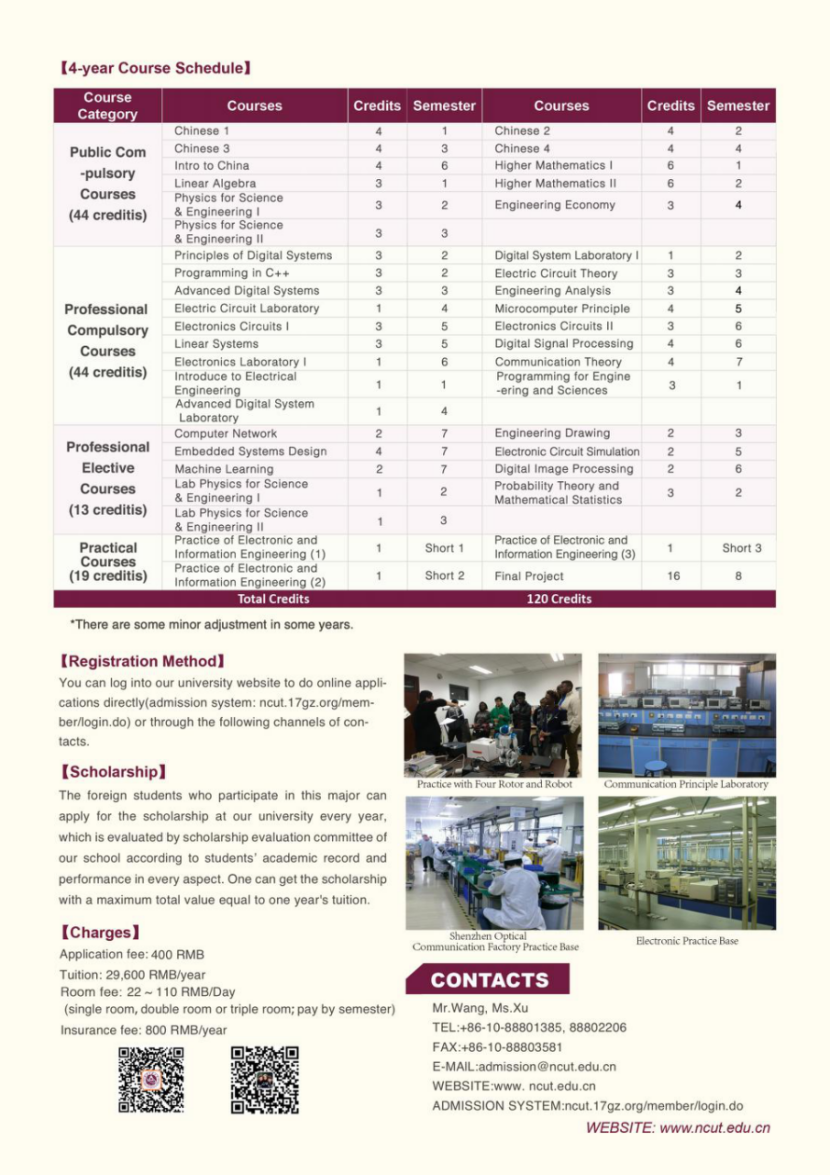 5. Admission procedure and Requirements:
Application duration: Oct. 30 to June 30
Application system: https://ncut.17gz.org/member/login.do
Evaluation method: An interview will be organized if there is no problem for applicants' documents.
All application documents must be real. If fake documents are found, qualification will be canceled.
Cheating during interview is strictly prohibited.
Address: International School, NCUT, No.5 Jin yuanzhuang Road, Shijingshan District, Beijing, P.R.China
Post Code: 100144
Contact: Mr.Wang; Ms.Xu
Tel: 86-10 8880 1385; 86-10 8880 2206
Fax: 86-10 88803581
Email: admission@ncut.edu.cn
Website: www.ncut.edu.cn
Application system: https://ncut.17gz.org/member/login.do